Ankle sprain and osteopathy
A bad move, one bad reception and that is an ankle sprain ! Painful at first, then silent, it becomes uncomfortable in everyday life. Oedema, limp, difficulty to set foot and sensations of instability. There are the symptoms present when the management is not optimal.. Here is how to treat the most common sports injuries pathology.

How the body adapts to the sprain

?
(1) Sprain zone
The joint locking and possible structural damage will make the ankle unstable and painful.
Indeed the ankle lesion will place constraints on the ligaments the structures for which they are not suited.
To protect its structures, the body will do everything it can to sollicite them the least possible.
(3-4) Contro-lateral leg
The weight is not more distributed evenly, the knee and the contro-lateral ankle endure much stress.
These constraints will result in initial discomforte and followed by pain.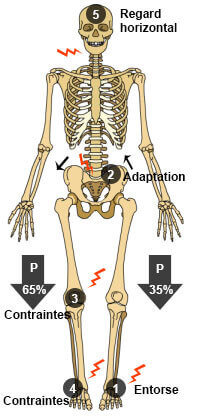 (2) Pelvis
The pelvis adapts itself to discharge the foot as musch as possible. The muscles shift, modifying the body's weight distribution.
Consequently, the pelvis is not in a natural position which can damage the lumbar vertebrae.

(5) Vertebro-cranien zone
The articulation Occipito-Atlo-Axoïdienne (between the skull the first and second vertebra) is responsible for the body's global positionning and keeping the eyes horizontal.
The body leans on a sid, therefore the O.A.A as to adapt and he can be painful.
Apply for on ankle sprain
Apply the following "RICE protocol" or to minimize the damage caused by the sprain. Follow these steps immediately after a sprained ankle to get you back on your feet as quickly as possible.
R for rest,
I to ice the sprain (10 minutes 4 times a day),
C for compression using a strapp applied by the practitioner,
E for elevation of the leg as often as possible.
Homeopathy for an ankle sprain
After two days of rest and ice application, begin proprioceptive rehabilitation with a physiotherapist.
Homeopathic treatment: 5 granules 3 times per day for 7 days
Ruta Graveolens 5CH
Arnica montana 9CH
Apis mellifica 9CH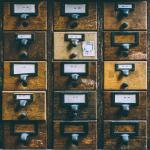 Visiting my osteopath for an ankle sprain
The intervention of an osteopath is essential for the effective healing of the joint and above all with a decreased risk of recurrence. He became the bridge between a general doctor and a physiotherapist.
The osteopathic treatment will help restore proper joint mobility, which will allow a good recovery of the ankle.
The osteopath will use gentle techniques adapted to the severity of the sprain.
In addition, the practitioner will investigate whether other postural mechanisms have been impacted by the sprain.
3 different and complementary methods to offer a maximum efficiency :